Our Mission
Sykes Union and Student Activities creates vibrant campus community through excellent programs and services.
Our Vision
To be a leader in intentional community building that prioritizes student success through:
Creating and sustaining affirming spaces for all
Providing students leadership opportunities
Fostering campus traditions
Offering meaningful experiences focused on a sense of belonging
Our Values
Integrity
Learning
Joy
Empathy
Commitment to Social Justice
Sykes Union and Student Activities values cultivating affirming spaces in our building and programs for all students and the WCU community. We will continue to do so even in the most challenging and uncertain of times.
Sykes Union is a student-centered place that is committed to providing space to gather, unite, and share ideas. Our team is dedicated to the role of the college union and utilizing our resources in the active pursuit of equity and social justice.
Stay Connected
University Health Updates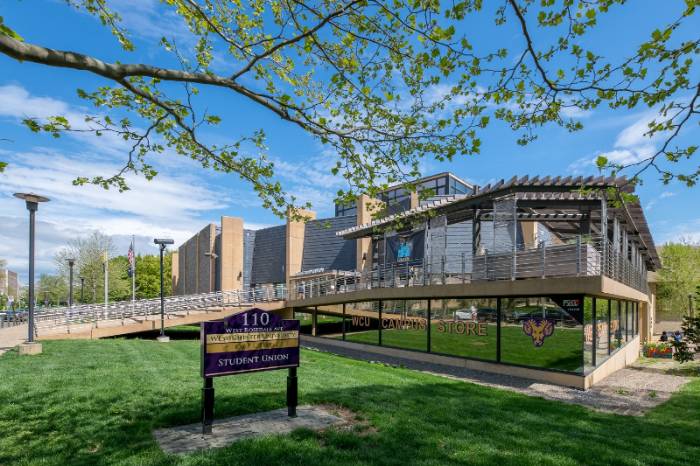 Hours
Fall 2022
Monday-Friday 7:30 AM-11:00 PM
Saturday 9:00 AM-11:00 PM
Sunday 10:00 AM- 10:00 PM
Thanksgiving Week (11/21-11/27)
Monday 11/21: 7:30 AM-11:00 PM
Tuesday 11/22: 7:30 AM-7:00 PM
Wednesday 11/23: 7:30 AM-12:00 PM
Thursday 11/24, Friday 11/25, Saturday 11/26: CLOSED
Sunday 11/27: 10:00 AM- 10:00 PM

Please reference the Campus Store website or the Dining Services website for up to date store and food court hours of operation.
Suggestions
If you have any comments, concerns, or suggestions, we encourage you to share them with us. The Sykes Student Union staff strives to provide excellence and we appreciate your feedback.
Sykes Student Union Online Suggestion Box
Back to top of page.