Ringing in Tradition: Annual Holiday Program Celebrates Its 100th Anniversary
On Saturday, December 11, the University's students, parents, alumni, donors, and the local community will gather together – as they have for 100 years – to usher in the holidays with beautiful and melodic music from the many choirs and ensembles of WCU's Wells School of Music.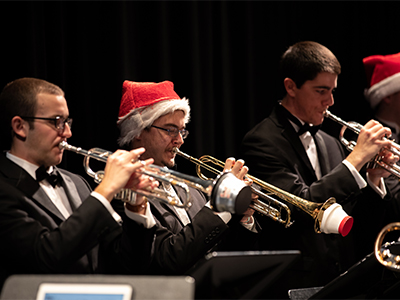 What began on December 18, 1921, as the "Christmas Carol Service" is now known as the annual Holiday Program. The newly appointed head of the music department for the West Chester State Normal School established the program of choral and sacred music, initially performed by the senior girls' and junior girls' glee clubs. Wearing white gowns, they processed down the aisle of the Old Main chapel and, later, the Emilie K. Asplundh Concert Hall, where the concert is now held annually.
The concert morphed through the years to include more secular music and to feature more of the School of Music's ensembles and choirs, including the WCU Symphony Orchestra and the Criterions Jazz Ensemble.
An event highlight is a rendition of "O Holy Night" sung by the winner of the vocal honors competition. Originally awarded to the best female soloist, the honor now spotlights a vocalist of any gender.
To honor the momentous occasion, this year's program also includes a commissioned work by San Francisco composer David Conte of a festival setting of "Gloria" for choir, brass, and organ.
Tickets are on sale to the public for $12 at www.wcupatix.com.